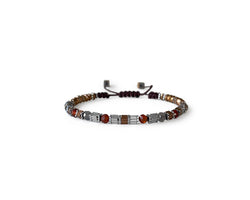 Hematite with Garnet & Labradorite Hand-Knitted Bracelet

Getting grounded

Grounding – focus - protection

This unique piece uses three of our favorite stones.  Known as the "protective stone", this Hematite piece will help center you and bring calm with its subtle vibrations while Garnet grounds you Labradorite will clean your aura and bring good things to your life. 

Wearing the stone in the form of jewelry is a powerful way to connect with the Hematite crystal meaning throughout the day. Remember to take a breath and slow down when you feel overwhelmed or unsettled.

Click here for care & repair to see how to wear and recharge your new bracelet
Wrap bracelets should never be worn in or exposed to water. Be careful and avoid exposure to perfumes, hair product, soaps, lotions, oils and household chemicals. Always remove jewelry before exercising and cleaning.
Knitted bracelets can be worn anywhere, anytime.  They are waterproof and will not be damaged if showering or swimming with them so go ahead and enjoy.
Our life-time guarantee* offers a life-time of wearing our products.  It means that if you have the leather and all stones in-tact we will fix it free-of-charge otherwise a small fee will be required to change leather or add any missing stones.  All you have to do is email us at care@iamcocosh.com or ping us on Facebook.com/iamcocosh and we will come to the rescue.